With the success of the previous Spiderman movies and the emergence of several super-villains, fans certainly can not wait to see Spidey in action crack down on crime. So, here are some criminals who be supposed appear in the next Spiderman sequel.
The Vulture (Adrian Toomes)
The Vulture or whose real name is Adrian Toomes is a person with exceptional expertise in the field of electronic engineering, he has a Master of Science degree in electrical engineering. With his expertise was then he created a costume that can help him fly against gravity, but unfortunately he chose to use it for evil.
The Scorpion (Macdonald Gargan)
MacDonald "Mac" Gargan was a private detective who worked on the J. Jonah Jameson to uncover the relationship between Spiderman to Peter Parker. He was so obsessed with hunting down spiderman through various secret experiments which later gave him a scorpion characteristics, it seems that power actually makes it more fun to kill spidey than do the simple "interview". Gargan originally appeared as the villain Scorpion, but in the next year his strength is far more frightening because it is associated with the Venom symbiote, After taking a serum to control the symbiote he began posing as the third incarnation of Spiderman.
The Chameleon (Dmitri Smerdyakov Kravinoff)
With the amazing ability to disguise, a men from Soviet whose named Dmitri Smerdyakov, succeed to make spiderman story becomes more full of mystery and suspicion. Dmitri himself in a version is the brother of the other enemies Spidey named Kraven the Hunter. the chameleon man first appeared The Amazing Spider-Man # 1 (March 1963), and created by Stan Lee and Steve Ditko.
The Rhino (Aleksei Sytsevich)
With a rhino costume characters resembling thick comes with power, speed and tremendous stamina. This power he gained from his business while trying to kidnap Bruce Banner (Hulk) to obsession scientists in research into the effects of gamma rays. The Rhino (Aleksei Mikhailovich Sytsevich) is a Fictional Character That Appears in comic books published by Marvel Comics. Created by writer Stan Lee and artist John Romita, Sr.., The first character Appeared in The Amazing Spider-Man # 41 (Oct. 1966).
Carnage (Cletus Kasady)
Carnage first get his strength when he was a prison cell on the island Ryker with Eddie Brock who has lost the ability to turn into Venom. Brock's symbiote soon returns and bonds with him again, and unwittingly left the mutations on self Cletus Kasady. With this new power Carnage began a series of murders after he escaped from prison. Venom Symbiote Mutation of this obviously can not be stopped even by sipdey. In desperation, Spider-Man makes a truce with Venom to fight Carnage.
Mysterio (Quentin Beck)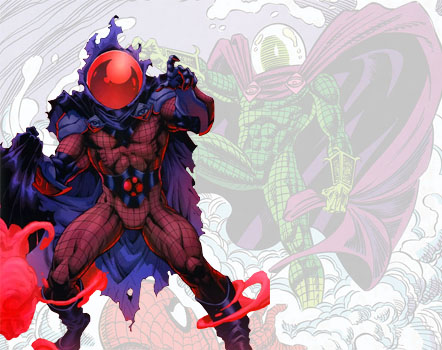 Quentin Beck does not have the power as the other super villain, but he has extraordinary intelligence to create the image that he has a super power capable of conquering Spiderman. Together with Daniel Berkhart who have capabilities such as Beck, and Francis Klum someone who has the ability to teleport and control the body parts of others. They have the belief that by killing spiderman will make them famous.
Electro (Maxwell Dilon)
In a lightning strike when Dillon work to repair electrical wiring seems to have completely changed his life. Dillon then turned into a walking capacitor, he can store unlimited amounts of electricity to his advantage in every crime. In New Avengers he was seen manipulate electricity in almost all over the city which he used to free the prisoners in Ryker. Besides that he is also known to be able to move wherever he wants just by crossing the electricity network.
The Hobgoblin (Roderick Kingsley)
Maybe someone thinks this Goblins has a relationship with the Osborn family, but it turns out it was wrong. Hobgoblin is another super villain which created by writer Roger Stern when he wrote The Amazing Spider-Man in the early 1980s. According his opinion is not logical story to revive the character of Norman Osborn, Stern chose to develop a new character as an heir to the Goblin forces. The most important part of this figure is his identity was not initially revealed, generating one of the longest running mysteries in the Spider-Man comics.
Kraven the Hunter (Sergei Kravinoff)
Sergei Kravinoff is known as a great hunting maniac. Unlike the other hunters who are accustomed to using weapons, Kraven prefer conquered prey with his bare hands. He was obsessed to kill Spiderman just to prove he is the greatest hunter in the world. Although he has no super powers like other criminals, but he has an amazing physical strength from various herbs which making his ability above the normal human. In the end Kraven managed to kill Spidey and burying our heroes on his land. Kraven feel so satisfied and found himself without a purpose again after the death of spidey (which in fact can still survive because only anesthetized). Kraven chose to commit suicide.
SOURCE
FOR MORE INFO